Program Description
Tucson High Magnet School's Badger Prep Academy is a curricular program (courses) that devises a college-preparatory pathway for students looking to attend a college or university of their dreams. Students who elect to take this designed pathway of courses will encounter the following benefits:
Challenging and Rigorous Courses
Wide Selection of Culturally Relevant English & Social Studies Classes
Honors and GATE Classes
Advanced Placement (AP) Class Offerings
Develop a 4-Year Plan
Pima Community College Dual Enrollment Classes
Senior Capstone and Community Projects
Our College and Career Counselors and Academic Counselors work closely with post-secondary institutions to ensure the correct courses are taken by students to give them an advantage in the admission's process. These partnerships will also assist student and families in understanding the steps they need to take to make the transition to college easier and feasible. With this guidance, we believe our students can and will succeed in getting into the college/university of their choice and will be well-prepared because of the Badger Prep Academy!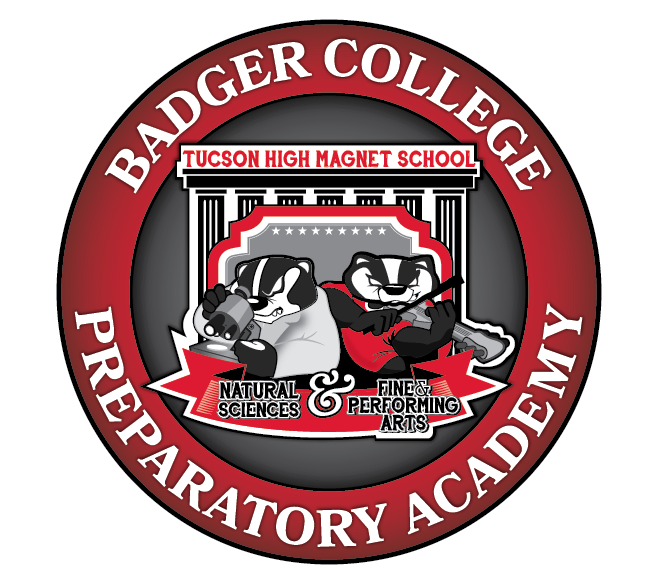 Benefits
Challenging and Rigorous Courses
Wide Selection of Culturally Relevant English & Social Studies Classes
Honors and GATE Classes
Advanced Placement (AP) Class Offerings
Develop a 4-Year Plan
Pima Community College Dual Enrollment Classes
Commitments
Commitment to finishing the program
Agree to take at least two dual enrollment courses
Complete the volunteer project and capstone
Signed student and parent commitment
Complete the Sweet 16 university requirements by the end of senior year
Incoming freshmen may have test scores reviewed
Supports
Zero hour study hall
8th period study hall
Badger power hour
Assigned counselor
Quarterly meetings
Avid mentor
Extra Curricular Activities
Fine arts

Mariachi
Folklorico
Guitar
Dance
Theatre
Piano, and many more
CTE

Graphic Design
Computer Science
Electronics
Sport Medicine
Auto Tech
Photography
Welding
Precision Machining, and many more
Limited Availability
There are limited seats available for the College Preparatory Academy
Students will be enrolled on a first-come, first-serve basis